I've been enjoying a few days away with the family at the beach and I have run into the most annoying problem.  I've run out of stuff on two projects.  This is annoying!  I don't know how all of you deal.  I guess I am just so spoiled that I go to a shop every day.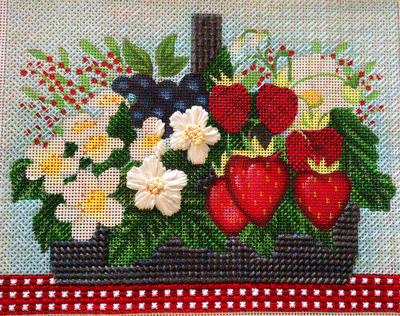 I've been working on the little berry basket by Melissa Shirley.  I can still finish the strawberries.  Then do a little beading.  I just hate to start the beading because I know when I go back with the other threads, they are going to keep getting caught.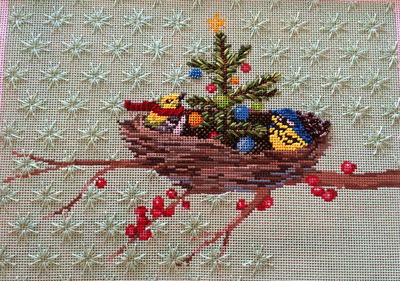 This Scott Church piece has been calling my name for a while.  I had to ignore it while I finished some of my homework.  I love the messy beading that I started on the nest, but I need smaller beads.  Size 11 beads will be overwhelming.  I can still stitch the tree.  I need to add a sequin in the center of the stars in the background with a cub bead holding them in place. I've got the beads, no sequins.  I think the background needs another layer.  Maybe a little Kreinik Marshmallow or Easter Grass?
Don't forget that we have a CBK trunk show in the shop, which includes Scott Church canvases.  All the canvases are 20% off, in stock and special order.
We've got a busy week at the shop this weekend, getting ready for Needlepoint Nation Stitch In next weekend.  I'll keep you posted!