We had a few last minute cancellations for our retreat next weekend. I'm sorry that the people who planned on coming aren't able to make it. But, the good news is, there's a few spots open! So, if you were thinking about coming, or something changed in your schedule, call the shop and we can get you signed up.
203-210-5107
Meredith Willet just sent me a picture of her finished piece, a Chorus Line.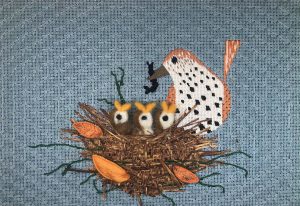 Isn't it fabulous?!!!!!! The background is gorgeous The felted baby birds are adorable!
And the nest . . .what can I say . . .AMAZING!!!!
The retreat is at the Greenwich Hyatt . April 27-29th. Come join us for an amazing weekend of stitching and fun!