Our love our ornament exchange.  I look forward to it all year.  There was a lot of grumbling about it from some people, but once they received their ornament all was right with the world.
I stitched this little cutie from Heidi for Kim.  It just looked wacky and fun, which is exactly what Kim is like.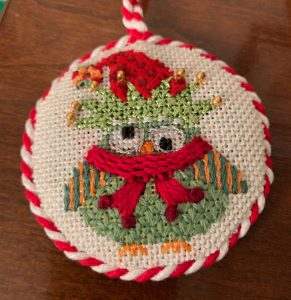 Linda stitched this little snowman for Aggie.  Can't you tell from her signature black and white bow?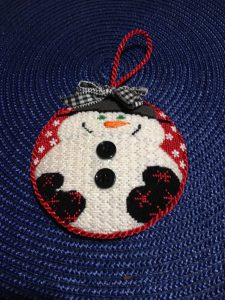 Kim stitched this little penguin for Lynn, the newest member of The Enriched Stitch family.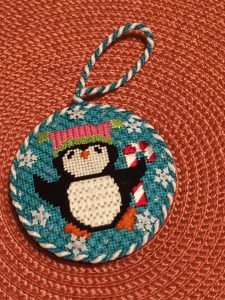 Can you guess who the next one was for?  ME!  You know me and my penguins.  Mary Susan pulled this out of my pile of canvases I had set aside for myself during the CBK trunk show.  Sneaky!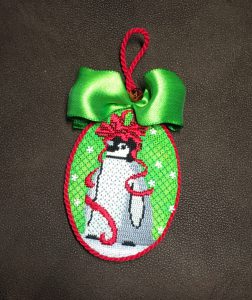 Aggie stitched this adorable bird from Funda Sculley for Mary Susan.  Not an easy task sneaking this one by  for finishing when Mary Susan runs the finishing department.  I put my name on the finishing form so she thought it was mine.  Pretty sure she didn't believe me. LOL!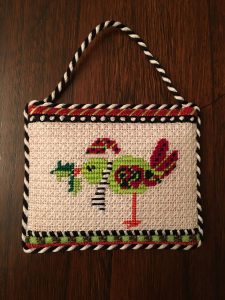 Andrea is our beach girl, so this ornament was perfect for her.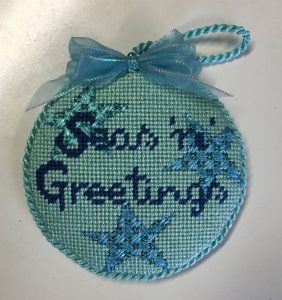 I don't know how Andrea was able to give this beautiful flower urn away to Linda.  Maybe she'll make me one too.  I have it in my stash already!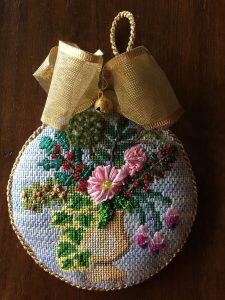 If you have a stitching group, I totally recommend you doing this.  What wonderful gifts that we can treasure year after year!