How much is too much?  Can there ever be too much?  Not for me!
I'm enjoying a few days of R & R with my family up in Vermont.  We managed to get up here before the snow storm.  After a 4 hour drive and unpacking the car, I finally sat down at 11:30 with a glass of wine and my stitching bags.  Yes, I said bags . . .plural.  I started pulling all of my little friends out, contemplating what I was going to work on first.  Then I started counting.  My husband, curious as to what I was doing, decided that people really needed to know how serious my needlepoint issues really are.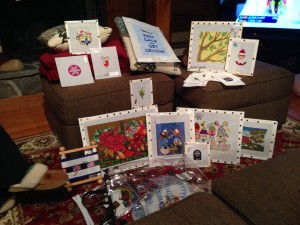 21 pieces in total!
Now, cut me a little slack.  Some are sets, like the Melissa Shirley Thimble Nativity that all come in the same project bag.
Let's see how many I finish.  1 down. 20 to go.