Happy New Year!
It has been one crazy year at The Enriched Stitch!
Between starting my own wholesale line of canvases, purchasing Amanda Lawford and DC Designs, and everything else that goes on here day in and day out . . .I was exhausted!  I desperately needed the last week off.  And what do you think I did all week . . .worked of course . . .but in my pj's.
I've been furiously stitching away new models for the TNNA show at the end of the month, writing stitch guides, building a new website, updating price lists and hanging out with my little guy and the family.  I have over 100 new designs that will come out at the end of the month, so keep your eyes peeled for all the exciting things coming from the Vallerie Needlepoint Gallery.
Unfortunately I can't show you what I've been working on lately, you'll just have to wait a few more weeks.  But here's the year in review of everything I stitched in 2017.
Bright Floral – Amanda Lawford
Wonderland Heart – Amanda Lawford
New England Santa – Amanda Lawford.  I will be teaching this piece at our Needlepoint in New England Retreat this spring.
12 Days of Christmas Wreath by Melissa Prince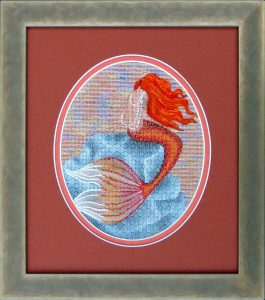 Red Tails at Sunset – Leigh Designs
Two Chicks Egg – Kelly Clark
This was part of our Hippity Hoppity Egg club last spring
Perfume – DC Designs
Dazzling – Leigh Designs
Limited Edition Heart – Amanda Lawford
Mojito – Leigh Designs
Strawberry Daiquiri – Leigh Designs
Pina Colada – Leigh Designs
Lemon Drop – Leigh Designs
Cufflinks for my husband – Pointe 2 Point
Snowball Cafe – Maggie Co.
This is part of our newest club that starts later this month.
Gingerbread Man – Leigh Designs
Kate Dickerson Alphabet Round
GOAT  (for my future husband Tom Brady lol) VNG Canvas
Shark Mini Stocking – Kathy Schenkel
Boo – Amanda Lawford
Three Birds on a Wire – DC Designs
Long Santa – DC Designs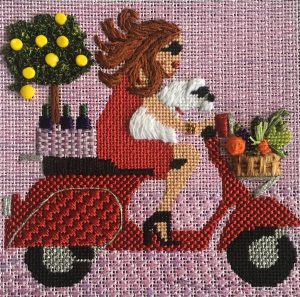 Mediterranean Diet – Melissa Prince Designs
Serafina – Leigh Designs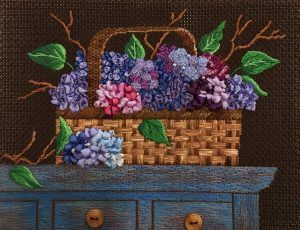 Hydrangea Basket – VNG Canvas
Basket Egg – Kelly Clark
Autism Heart – VNG Canvas
Mary's Cross – A Poore Girl Paints.  This was what I stitched for Mary in our Secret Santa Stitching.  More on that later.
Wine Stopper _ Pointe to Point.  This was a Christmas gift for my mom.
Change Purse – Point of it All (more on this piece coming in another blog)
Phew!  That's 34 pieces that I can find.  Seems a little light for me this year.  But then again, I've stitched about a dozen pieces that I'm not sharing yet.
2017 was a great year, both personally and professionally.  2018 is going to be even better!  I have so many plans for this year . . . new clubs, classes, new canvas designs . . .my brain is always working on overload. Just ask the girls in the shop.
Let's raise a glass and toast to the upcoming year!